Take a class with us!
We love buttercream cake and cupcake decorating and know you will too! We are very passionate about teaching students the best ways to decorate using delicious buttercream frosting. Our classes are fun, informative and hands-on. Classes also make fabulous gifts for that special someone with a love for cake and cupcake decorating.
All classes are held at our Solon Location
33371 Aurora Road, SOLON, OH 44039-located next to Title Boxing in Solon Square Shopping Plaza
Call to register or stop in. Classes must be paid in full to schedule.
440-394-8049
NEW Story Time and Cupcake Series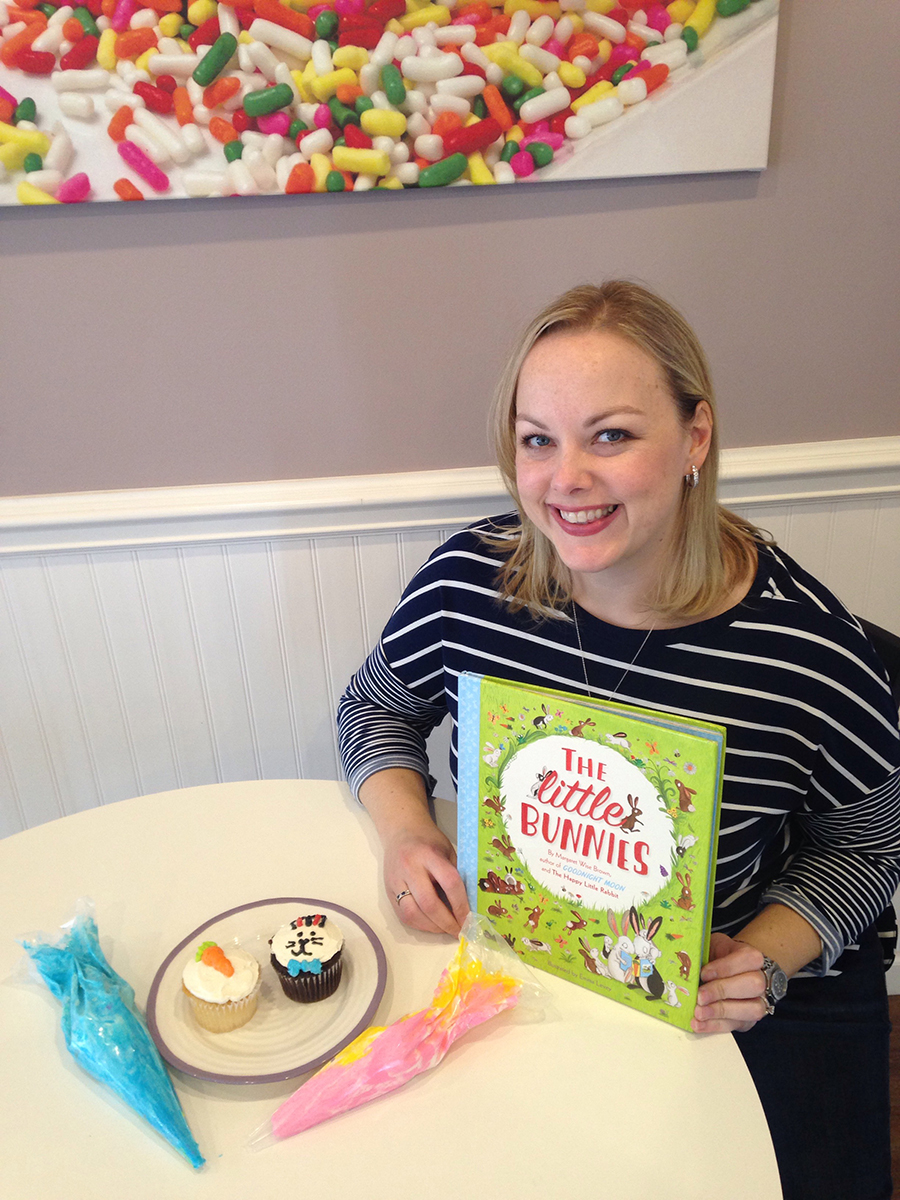 $10 each per child per story time
Hey Moms and Dads!(and Grandparents Too:) Have little ones who LOVE cupcakes? Sign them up for our NEW Story time and Cupcake Series! Taught by our fabulous instructor Janet, she will read a fun story to your kiddos, then teach them how to make 4 simple cupcakes that go with the theme of the story using buttercream, fondant and sprinkles. Perfect for kids 5 and under. Sign up soon, these fill up
December 22 10-11am Holiday theme
Adult Cake and Cupcake Decorating Classes
Friends who came together to make gorgeous wreath cakes!
Mother and Daughter enjoying our wreath cake class!
Marianne demonstrating a buttercream frosting technique
Some gorgeous cakes from a beginners class!
Piping petals:)
Beautiful florals shown in the Floral Cupcake Technique Class
Check out those amazing buttercream ruffles and flowers!
Ladies showing off their beautiful buttercream cakes from our Beginners Class
Marianne Helping students learn and create flower petals
Mother and Daughter showing off their amazing cakes from our Beginner's Buttercream class
Here are some students from Columbus who came in to take our Bootcamp!
Gorgeous flowers demonstrated in class
Beautiful Buttercream Florals!
Decorating a cake in class
Awesome work in class
Mother/Daughter time:)
Piping a beautiful signature flower!
Mastering the buttercream Rose
Adding flower details
Piping flower details
Buttercream Bootcamp and Floral Cupcakes
$200 per person
Interested in learning how we create and design buttercream cakes? We combined our 2 most popular classes in this informative and fun 4 hour class with a focus on buttercream!
Owner/Designer Marianne Carroll will work with you to perfect your buttercream skills. Techniques demonstrated are: how to frost a cake properly, how to stack a tiered cake, ombre frosting techniques, piping skills galore-scrolling, filigree, brush embroidery, hobnail, buttercream ruffles, writing on cakes and much much more! There is an emphasis on beautiful buttercream flowers such as our Signature White flower, Roses, Orchids, Mums, Dahliahs, Hydrangeas, Sunflowers plus many others.
Each student will receive a 6" cake and 8 cupcakes to decorate after the tutorial as well as take home recipes. Purchase our cake decorating kits or individual Signature flower tips while you are here for class.
This class books up FAST so call asap. We take a max of 8 students in each Bootcamp.
Open to all skill levels. Ages 15 and up please.
Note: We keep the room very cold, so please bring a sweater or jacket. This is a long class, so feel free to bring a beverage or snack.
Saturday November 11 12:00am-4:00pm-BOOKED
Saturday December 9 12:00am-4:00pm- BOOKED
Floral Wreath Cakes $75

per person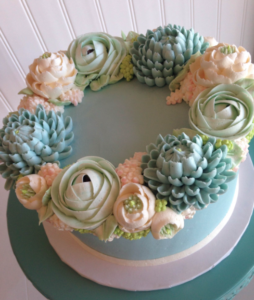 In this class, the focus is on Buttercream Flowers! Learn to create cakes that are elegant and composed with various buttercream florals. Peonies, hydrangeas, roses, mums, orchids and more will be demonstrated. Each student will receive a single layer 8″ cake to decorate in their own floral wreath style.
Floral Cupcake Techniques $55

per person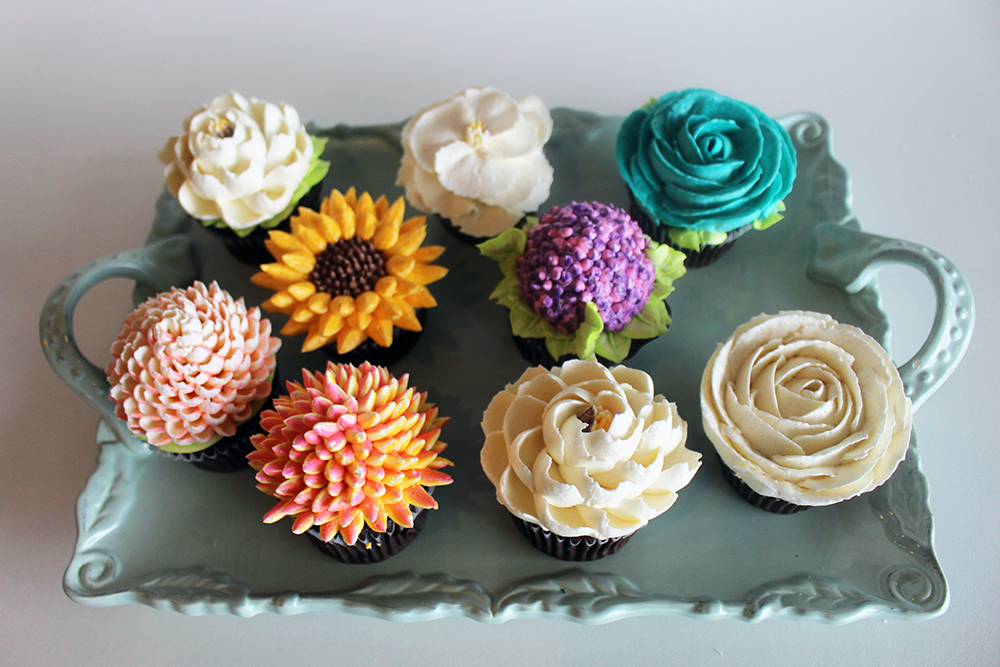 Want to learn how to make fabulous floral cupcakes at home? If so, this class is for you! We will show you how make buttercream flowers that look like; peonies, gerbera daisies, mums, hydrangeas, roses, dahlias and more. We will hand out a guide for the decorating tips used in class as well as a buttercream recipe. Each student will receive 8 cupcakes to decorate and then take home.
Beginners Buttercream Techniques $75 per person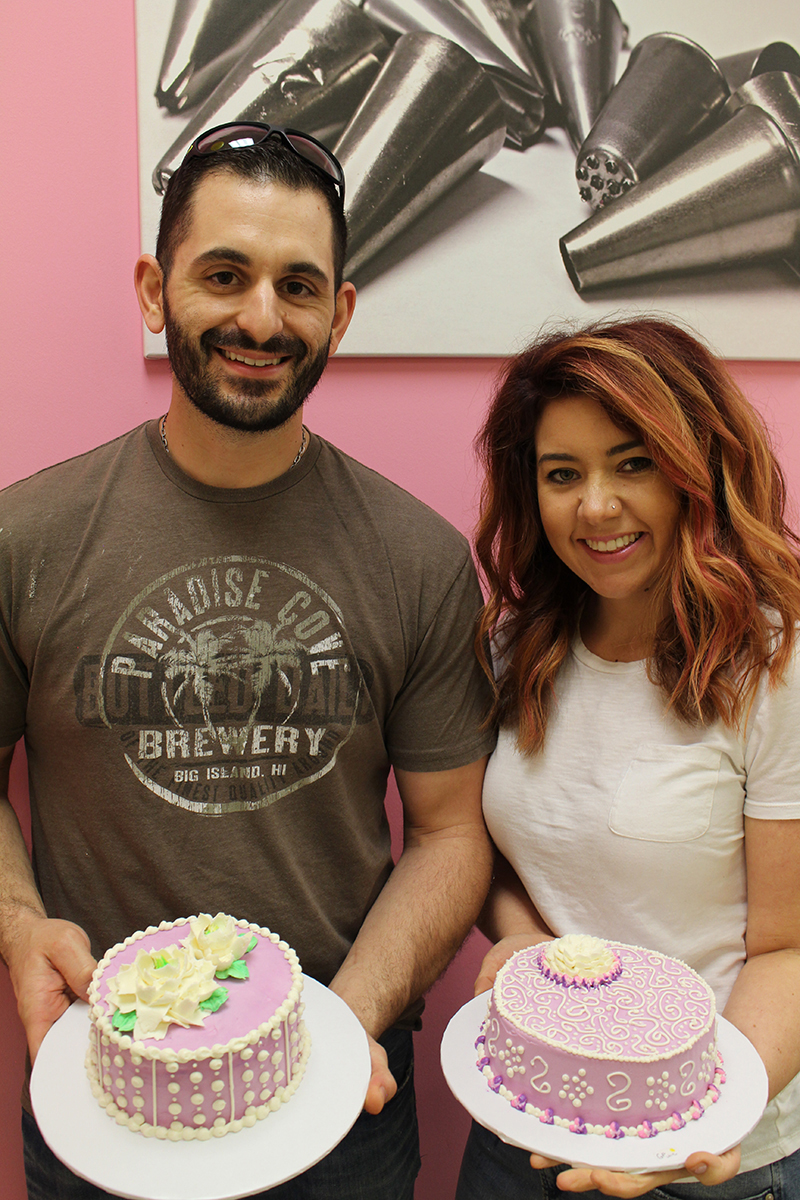 Are you new to cake decorating? This class is designed for a beginner with a passion to learn all about buttercream decorating! Owner/Designer Marianne Carroll will walk you through the basics. Included in the class: How to split, fill, and frost a cake properly, how to use design in piping, hand-piping techniques, flowers, borders and more! Each student receives their own 6″ single layer cake to decorate and take home.
Children under 15 must be accompanied by an adult.
Note: We keep the room very cold, so please bring a sweater or jacket
Saturday December 2 11:00am-1:00pm
Ladie

s' Night Cu

pcakes!
Ladies making fabulous cupcakes at our Ladies Night class!
Wine and cupcake decorating? Yes please!
Lovely buttercream flower created in our Ladies Night class
Mother and Daughter having fun at our Ladies Night
Buttercream shots!
Cupcakes and Wine?
Yes please! Join us for Ladies Night and get ready to have some fun! Bring your friends and learn to decorate amazing cupcakes. Feel free to bring your favorite beverage! Each person will receive 8 cupcakes to decorate and then take home. We offer this class at least once a month and it books up fast!
$45/person
Saturday November 18-Fall Florals 4:30-6:00pm
Mums, Roses, Dahlias and more gorgeous buttercream blooms will be demonstrated in this fun class!
Saturday December 16 -Holiday Theme 4:30-6:00pm
Saturday December 30- 4:30-6:00pm
Kid's Classes
Sweet Charlotte decorating her cupcake!
Violet enjoying her tasty cupcake!
Isabel swirling some delicious buttercream!
Parent and Me Holiday Cupcakes
2 Tier Cakes
2 Tier Monster Cakes
2 Tier Cakes
Ladies enjoying their cupcake decorating
Kid's Cupcake Techniques $25 (per child)
Ages 3-10
Does your child Love Cupcake Wars? Sign them up for a fun class! Your Child will have a blast learning to create amazing and creative cupcakes using both buttercream and fondant. Each student will receive 8 cupcakes to decorate and to take home. These classes book fast so sign up soon!
Holiday Themed: Saturday December 16- 10:30-11:30am
Online Decorating Tutorials are available HERE
Classes must be paid in full when reserved. Class dates and times are subject to enrollment and weather conditions. If a class has less than 50% enrollment or severe weather on date of class, we may reschedule or combine with another class date. You will be contacted by phone for any schedule changes. Class fees are not refundable, but are transferrable to another class date or can be exchanged for store credit or gift card. Class fees are subject to change at our discretion.