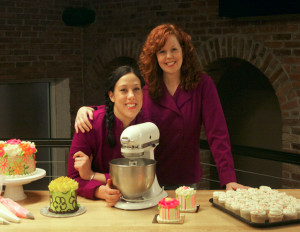 Online Decorating Tutorials are available HERE
Scroll down for the class schedule
All In Store Classes are now located at our  Solon location
Solon Square Shopping Center
33371 Aurora Road Solon, OH 44139 
Call 440-394-8049 to register for your classes
Adult Classes
Buttercream Bootcamp and Floral Cupcakes $150
We combined 2 classes in this awesome 4 hour extensive class with a focus on buttercream!
Owner/Designer Marianne Carroll will work with you to perfect your buttercream skills! She covers everything-how to frost a cake properly, how to  stack
a tiered cake,  ombre frosting techniques, piping skills galore-scrolling, filigree, brush embroidery, hobnail, buttercream ruffles,
writing on cakes and much much  more!  There is an emphasis on beautiful buttercream flowers such as our Signature White flower, Roses, Orchids, Mums,
Dahliahs, Hydrangeas, Sunflowers plus many others.
Each student will receive a 6" cake and 6 cupcakes to decorate after the tutorial.
This class books up fast so call asap. Open to all skill levels
      Sunday September 20  12:00pm-4:00pm
Beginners Buttercream Techniques $55 
Are you new to cake decorating? This class is designed for a beginner with a passion to learn all about buttercream decorating! Owner/Designer Marianne Carroll will walk you through the basics. Included in the class:  How to split, fill, and frost a cake properly, how to stack a cake, piping techniques, flowers and more! Each student receives their own 4″ cake to decorate and take home.
      Sunday September 13  11:00am-1:00pm
Ladies' Night Cupcakes! $45
Bring your girlfriends after work for a fun filled evening of cupcake decorating. We will be making sassy shoes and purse cupcakes, martini glass cupcakes, flowers and more! Feel free to bring your favorite beverage! Each person will receive 8 cupcakes to decorate and then take home.
        Wednesday September 9 5:30pm – 7:00pm
Wednesday September 30 5:30pm – 7:00pm
Kid's Classes
 Ages 6-12
 Cupcake Techniques  $65
This awesome class will include our most popular kid's cupcake designs! Emoji, chef theme, buttercream flowers, tye dye, animals, and more! Fondant and buttercream techniques will be demonstrated in this class. Each child will receive 12 cupcakes to decorate.
     Saturday September 26 10:30-12pm
Photos by Rad Photographer    Classes must be paid in full when reserved. Class dates and times are subject to enrollment and weather conditions. If a class has less than 50% enrollment or severe weather on date of class, we may reschedule or combine with another class date. You will be contacted by phone for any schedule changes. Class fees are not refundable, but are transferrable to another class date or can be exchanged for store credit or gift card. Class fees are subject to change at our discretion.